Exclusive interview with co-founders of Listo.ca
"Hello readers! 😊 Here we are with yet another amazing interview session with Harman Shahi, Ajan Kanaga & Aravinth Ratnasingam, co-founders at Listo.ca. We really hope you'll enjoy this session as much as you enjoyed the last one". 😊
Listo offers a revolutionary all-in-one real estate platform that consolidates a diverse range of housing options. Whether you are looking for resale homes, pre-construction opportunities, custom-built havens, or assignments, Listo has it all.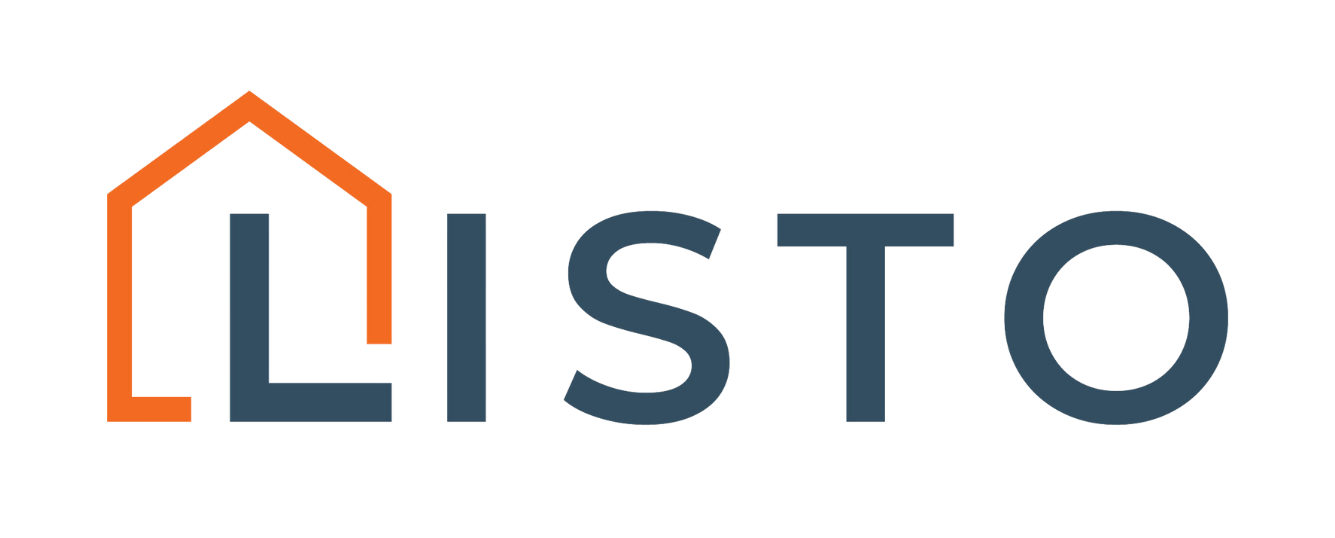 For buyers looking for an easy and simplified option to search real estate listings, Listo is a first-of-its-kind experience that provides a single-holistic platform giving buyers in-depth searches on the history of various properties, developers, launch dates, inventories, expert insights and tools, guiding them towards making informed real estate decisions.
Listo also has a separate section dedicated to new buyers where they can easily filter their housing search based on price range and the number of bedrooms they desire. For investors and developers, Listo grants access to the most comprehensive list of investor and development properties in Canada. They can search, compare, and evaluate different opportunities, equipped with the insights and tools.
For those dreaming of a property but struggling to afford it alone, Listo has introduced a unique co-ownership feature, enabling buyers to share costs and ownership with another buyer. It's an innovative solution that makes dream ownership within reach.
---
Now, let's dive into the amazing session between Listo's co-founders Harman Shahi, Ajan Kanaga & Aravinth Ratnasingam & Techrangle Director, Riju Vashisht. 😊
Riju: "Hi Listo team, welcome to our exclusive interview session. How are you all doing?
Listo: "Hi Riju, we are doing well. Thank you for having us."
Riju: "You're welcome! Could you please tell us what inspired you to start Listo? Is there a specific problem or gap in the market that you aimed to address?"
Listo: "Yes, our perspective on this has two sides to it. Firstly, we felt there was a real need for a platform that brings together resale, pre-construction, assignment, and custom homes all in one place. Imagine if you're looking to make a move to a specific neighborhood in Markham – you should be able to see the full spectrum of available properties right there. Why should someone have to visit multiple websites to gather this information? It just seemed like a hassle we could simplify.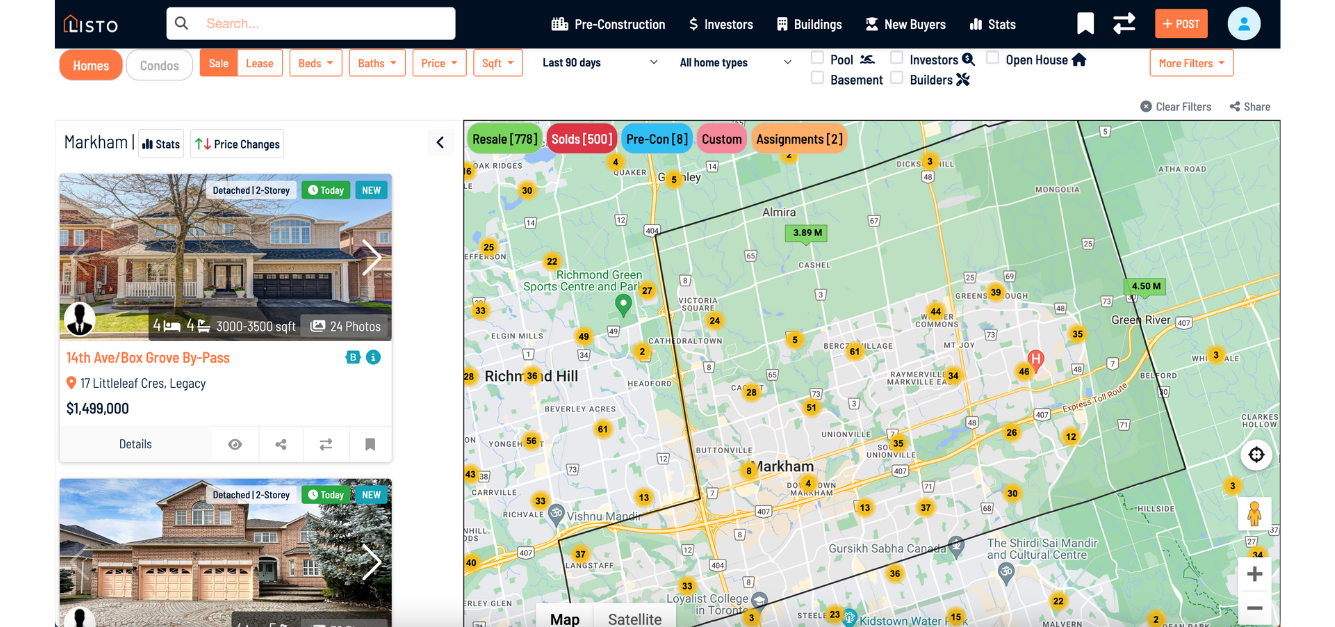 And secondly, our aim is to inject more accuracy and reliability into the real estate scene. We have come across numerous buyers, especially from the Gen Z cohort, who are feeling disheartened by the mixed information they receive about pre-construction projects – details like inventory and dates are all over the place. We're really keen on collaborating with developers, particularly those from smaller to medium-sized builders, to establish ourselves as the go-to source for solid real estate data. Our goal is to be that trustworthy partner everyone can turn to."
Riju: "How does Listo differentiate itself from other real estate apps currently available in the market?"
Listo: "There are many fantastic real estate apps out there, and we've taken all the best features and narrowed them down to what users really need and love.
Investors & Renovators - We've got these super-smart algorithms that do all the heavy lifting for you. For instance, if you're on the lookout for properties that tick all the boxes for investors – our algorithms swoop in and find you perfect matches, complete with rental rate of return data.
First Time Buyers - Listo keeps a watchful eye on prices, we sense the market temperature, and we even give you hints about new areas that could be your perfect match if you're a first-time buyer.
New Way To Search - We have flipped the script on how you search. You can search "Where can I find a 4-bedroom gem for under $900K?" or "What's the scoop on $800K listings in Brampton?" It's like discovering hidden gems that totally fit your needs and your budget.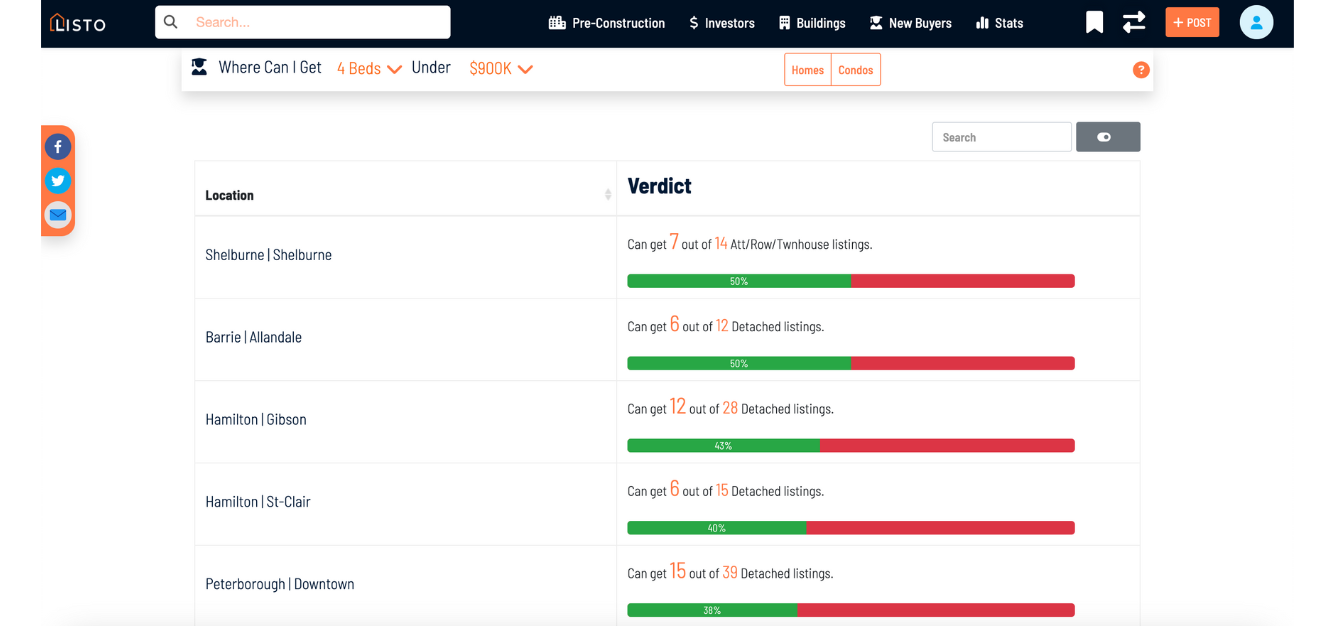 Co-Ownership - We know it's tough to find the right investors among your friends. As you are browsing Listo, you can click a button to show some interest, and we bring like-minded folks together to create something bigger and better.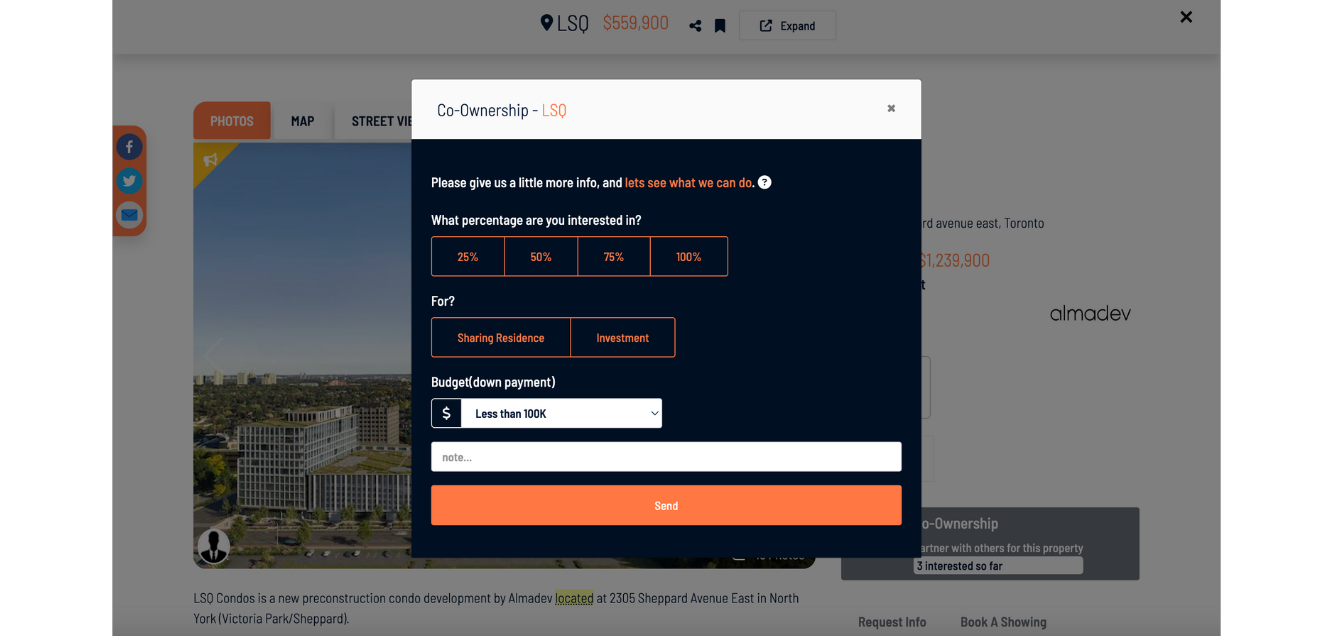 Nearby Listings - Imagine you are cruising down the street and you spot a house that piques your interest. Tap the nearby button on Listo, and voilà – you get what the house is listed for, or what it was sold for. No need to call the realtor!

Ultimately, we want to make Listo as your trusty sidekick to simplify real estate, create co-ownership connections, and give you answers without the hassle."
Riju: "Could you explain the key features and functionalities of Listo that make it stand out?"
Listo: "Sure. As our mission states, you don't have to stick to just one type of property. Resale, pre-construction, custom homes – Listo puts them all together for you, ready for you to compare and chat about with ease.
Listo is all about keeping things super easy and convenient. You can add properties and communities to your watch list – it's like creating your very own personal radar for listing status and price changes."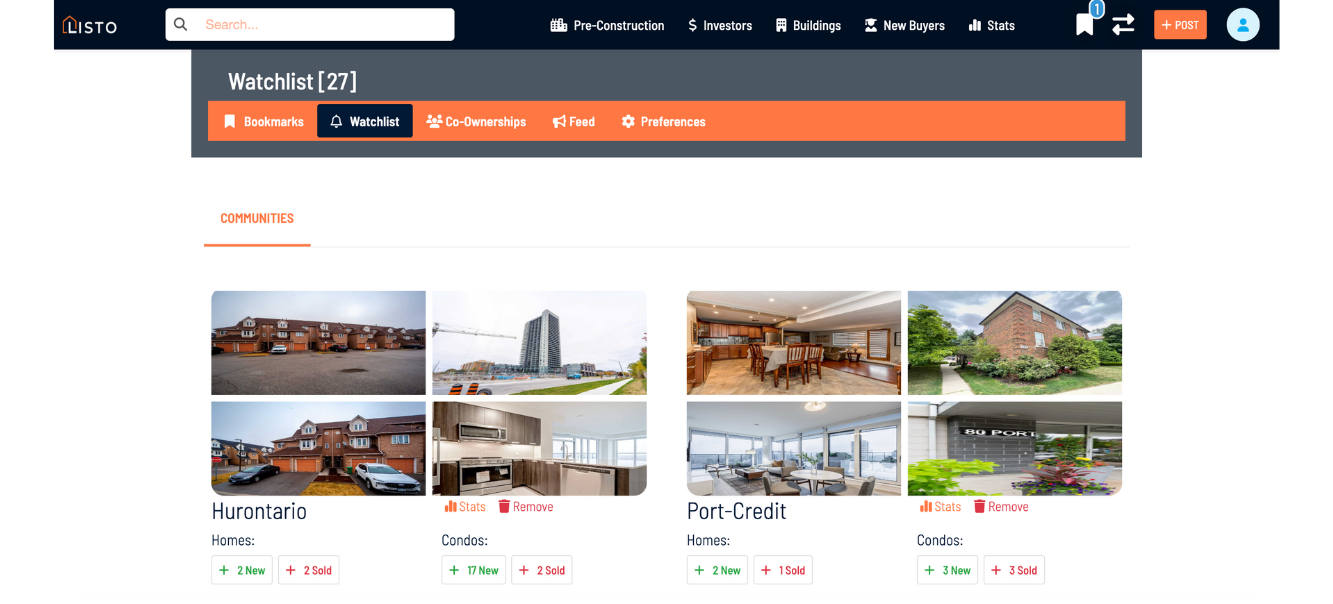 Riju: "How does Listo leverage technology to enhance the user experience and simplify the home buying/selling process?"
Listo: "Our tech playground is AWS – the perfect spot for future growth. Utilizing Google services, Hoodq, ChatGPT, and Ghost blogging system keeps us agile and adaptable."
Riju: "What strategies has Listo implemented to ensure accurate and up-to-date property information is available to users?"
Listo: "When it comes to resale properties, we have teamed up with the Toronto Regional Real Estate Board (TRREB), which allows us to gather resale and sold listings every single hour. This means you're always getting the most up-to-date information.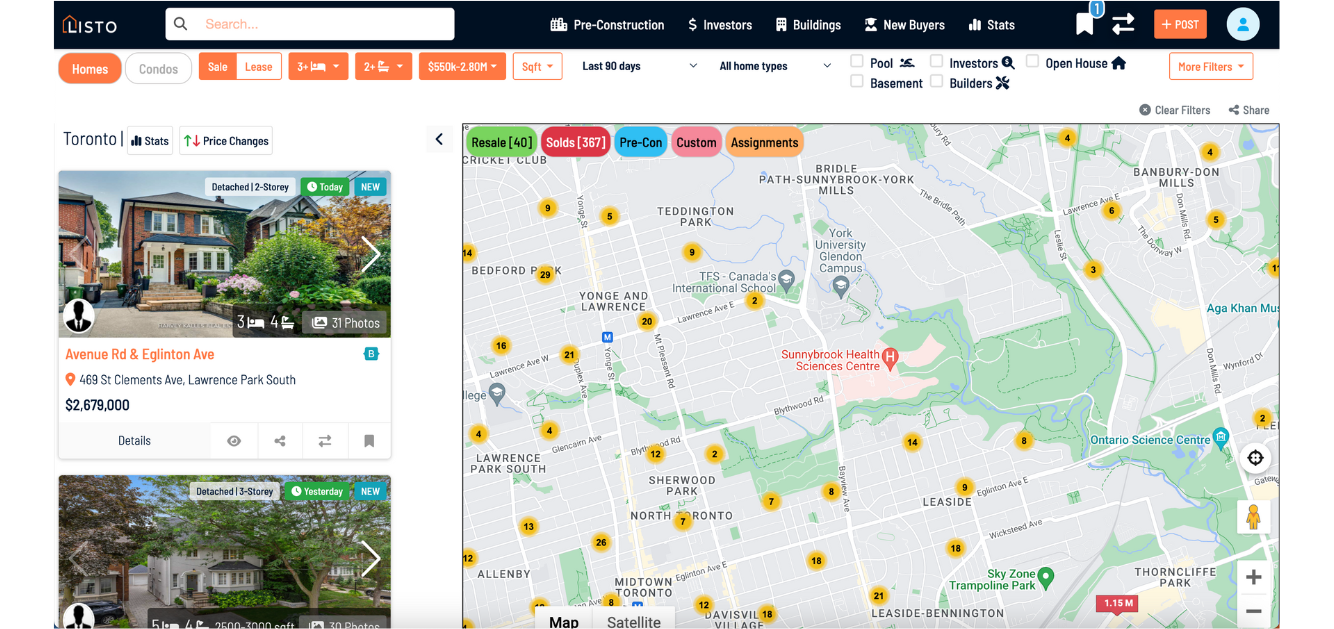 For the exclusive assignments and unique custom homes, our admin team does their due diligence, checking all the paperwork before a property even makes it onto Listo. They're on top of things with weekly follow-ups to ensure the listing's status is always on point."
Riju: "Could you tell us more about the "sold history" feature of Listo? How does it benefit users and contribute to their decision-making process?"
Listo: "One of the most popular features on Listo is the historical data analysis; getting a peek into the past to understand pricing trends and property movements.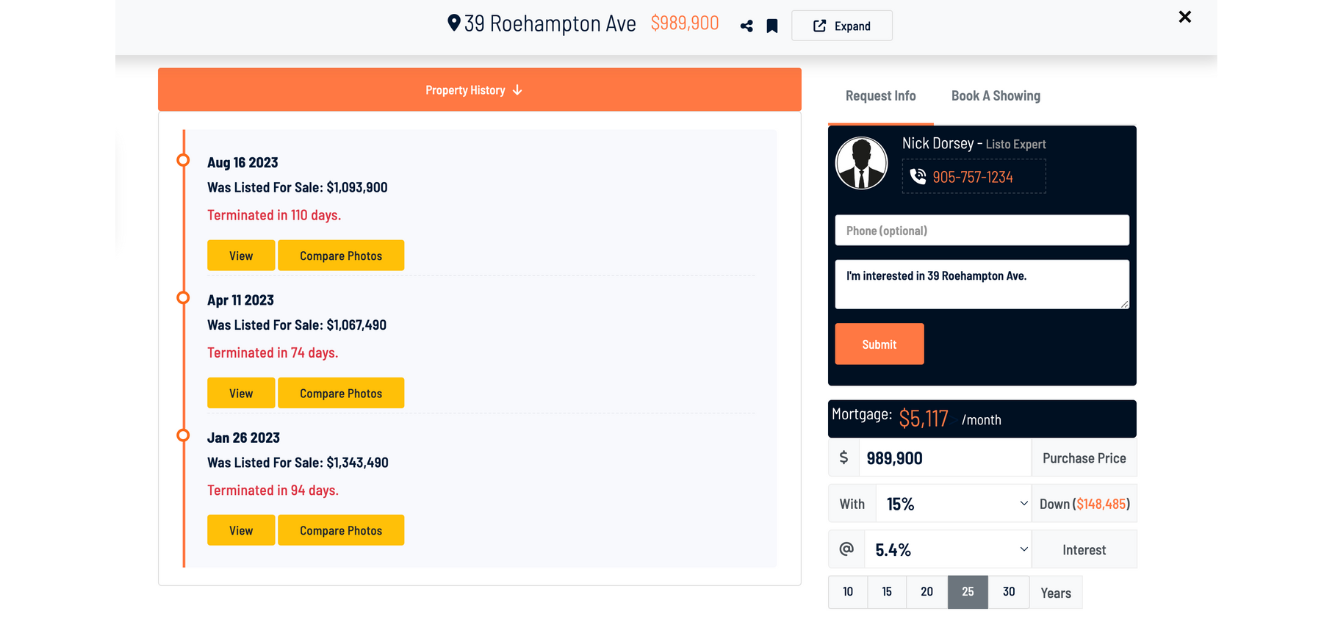 Let's say a house has been sold within a week for the last two rounds – that's a hint of a desirable area, prompting potential buyers to act swiftly.
And that's not all – Listo also helps decode leasing patterns too. If you notice that a unit has been leased in a matter of days over the past few rounds, that's a telltale sign of a sought-after building. It's a clear signal to buyers that units in this building don't hang around for long, nudging them to make their move promptly."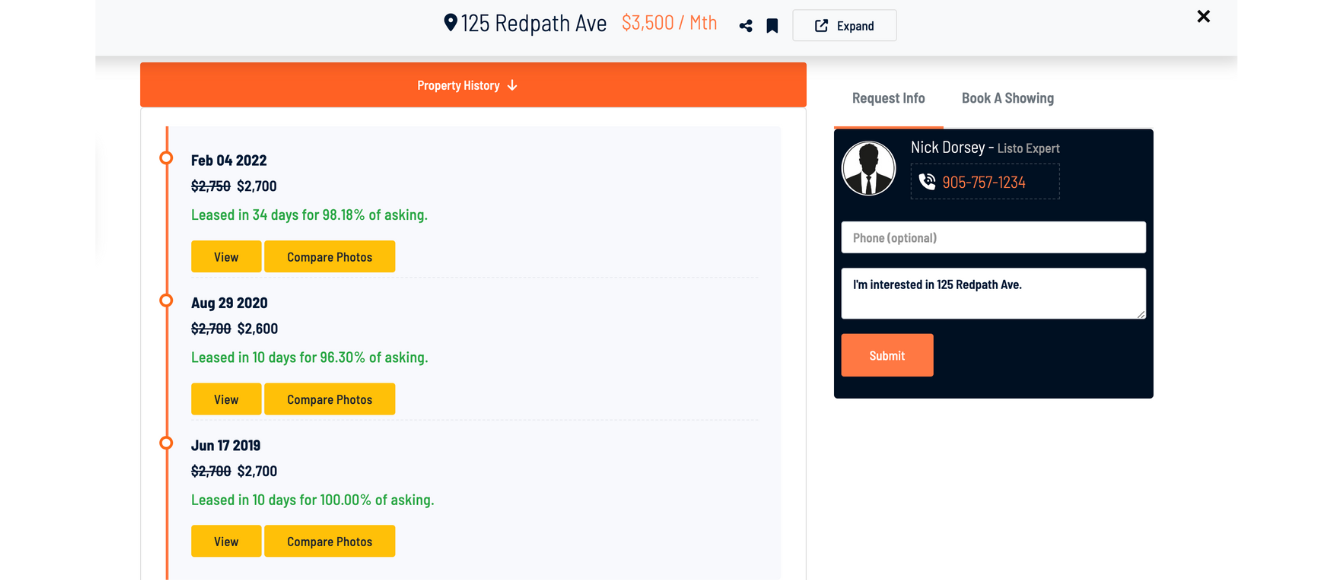 Riju: "Pre-construction upcoming projects are of great interest to many homebuyers. How does Listo provide information on such projects and assist users in staying updated?"
Listo: "When we circle back to our mission, it's all about boosting transparency in the real estate realm, with a special focus on the pre-construction. Our aim is simple: we're striving to populate Listo with data straight from the source – the builder themselves.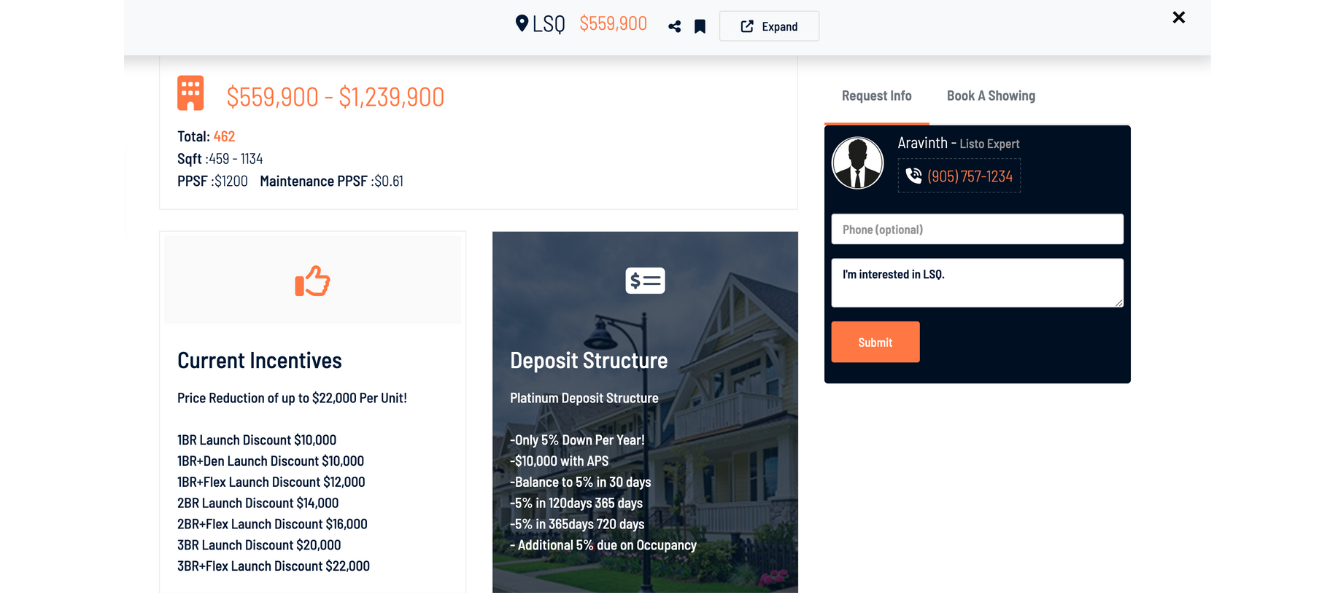 We believe in delivering accurate and reliable data to our users, even if it means focusing on a more select dataset. It's about building trust, empowering users, and ensuring that every interaction on Listo is grounded in authenticity."
Riju: "Can you elaborate on the other cool features that Listo offers to homebuyers, sellers, and realtors?"
Listo: "Yes, Listo has some amazing features such as,
Co-Ownership - A whole new way to dive into real estate. Users can show interest in percentage of a property. Imagine partnering up with others like-minded people, pooling your resources for something bigger and better.
Price Decreases - Then there's the price change alerts. When it comes to staying on top of prices, Listo is like your personal alert system. Get notified about increases and decreases, so you're always in the know.

What's Trending - Peek into which properties are stealing the spotlight – whether they are the most viewed, bookmarked, or shared. It's like tapping into the real estate heartbeat.
Custom Homes – We were involved in a custom home development in Kingsway south area, a charming niche area. People always strolled by, curious about the house, but we had no place to send them for information. That moment, we thought there is a need for a platform to showcase custom homes pre-market."
Popular Buildings - Now, if you've got a thing for a particular building in the GTA, we have got you covered. Just add it to your favorites, and you get everything on that building – you're tuned in, hassle-free.

Riju: "How does Listo cater to the needs of real estate professionals and assist them in their daily operations?"
Listo: "Listo has several features that can help sellers and buyers alike in seeing the market trends of areas. Our stats page can break down the sales in an area, the average price, selling speed of buildings, what kinds of buildings are being sold, and more.
This can help professionals with observing trends and investment decisions."

Riju: "In terms of user experience, what steps has Listo taken to ensure a seamless and intuitive interface for its users?"
Listo: "Looking at the strengths and weaknesses of existing website layouts/interfaces, we have taken steps to make Listo a better platform not only for desktop users, but intended for mobile usage as well.
The biggest challenges were to integrate a higher level of options and detail with our search functions without making the extra amount of information too visually dense."
Riju: "Are there any plans to expand Listo's services beyond its current offerings? If yes, could you provide some insights into what we can expect in the future?"
Listo: "We're planning to team up with additional real estate boards to expand our pool of resale data.
Partnership with builders - With Listo, we're rolling out a special access feature exclusively for builders. They can take the reins and update their own project details and inventory. After all, not every builder has the time or inclination to manage their own website – they're experts in building, and that's where Listo comes in."

Riju: "What kind of data analytics and insights does Listo provide to its users to help them make informed decisions?"
Listo: "We're deeply immersed in real estate data analytics and insights. Despite having access to 20+ years of real estate information, our priority is trends – the recent 30, 60, and 90-day snapshots, along with future projections.

Here's the kicker: our analysis is no mere numbers game. We're diving into key metrics, like new listings versus sold properties and the balance between price increases and decreases. This forms the basis for understanding market trends and whether it leans towards buyers or sellers."
Riju: "How has Listo utilized user feedback to improve its platform and enhance the overall experience?"
Listo: "We've had cycles of users and testers to give feedback on the website, and have iterated on the website for the past year to ensure that the functionality and design are of higher standards."
Riju: "Are there any partnerships or collaborations that Listo has established with real estate agencies or industry players to further enhance its services?"
Listo: "Listo boasts strategic partnerships with GTA developers, affording us privileged pre-construction access upon project release. This advantage empowers us to offer clients unparalleled real estate opportunities and services in the highly competitive market."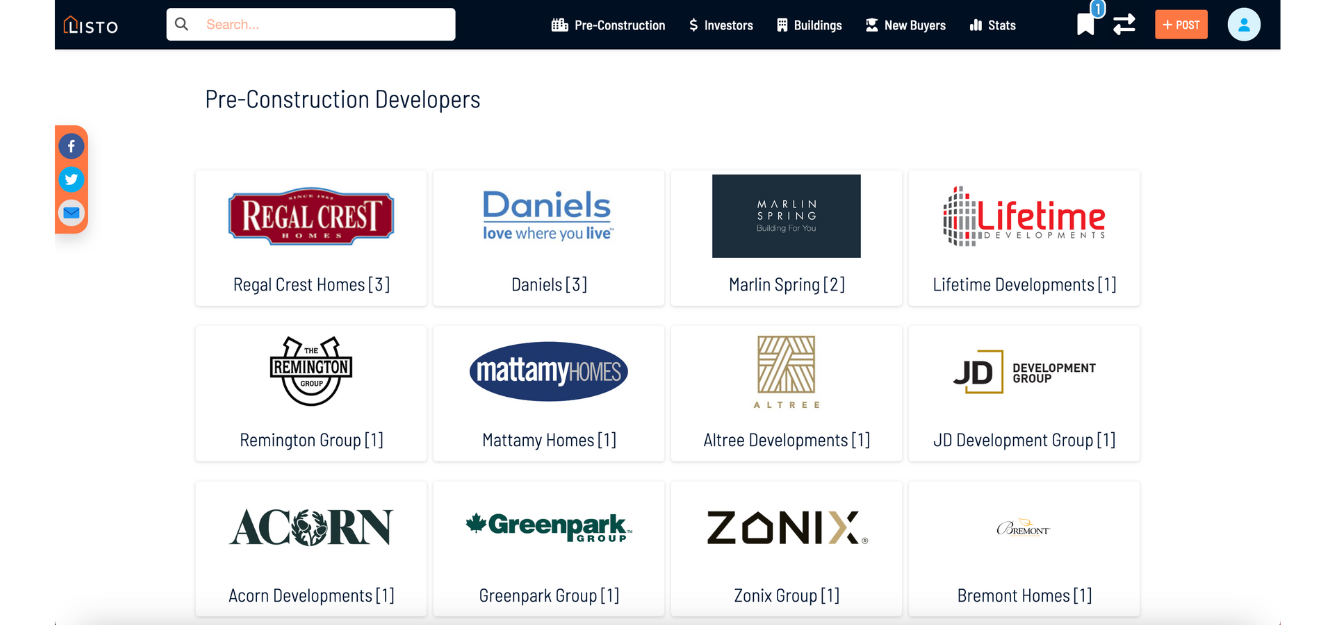 Riju: "What is the vision and long-term goal for Listo? How do you see it evolving in the coming years?"
Listo: "Our foremost objective at Listo is to serve the GTA real estate market with utmost precision and efficiency. By providing up-to-date and accurate data, we equip our clients with the knowledge they need to make informed decisions.
Our commitment to simplifying the real estate buying process ensures that clients navigate the intricacies with ease, streamlining their experience and transforming their property aspirations into reality."
Riju: "Lastly, how can interested individuals, homebuyers, sellers, and realtors get started with Listo? Are there any subscription plans or pricing models they should be aware of?"
Listo: "Listo does not have any pricing model. All the information we provide is open to both the public and realtors alike.
The only thing we ask is that users create a free Listo account in order to access the sold data."
Riju: "That's really phenomenal! We really appreciate you for sharing about how Listo simplifies housing journey and empowers buyers with expert insights and tools, guiding them towards making informed real estate decisions. Take care team! It was nice talking to you."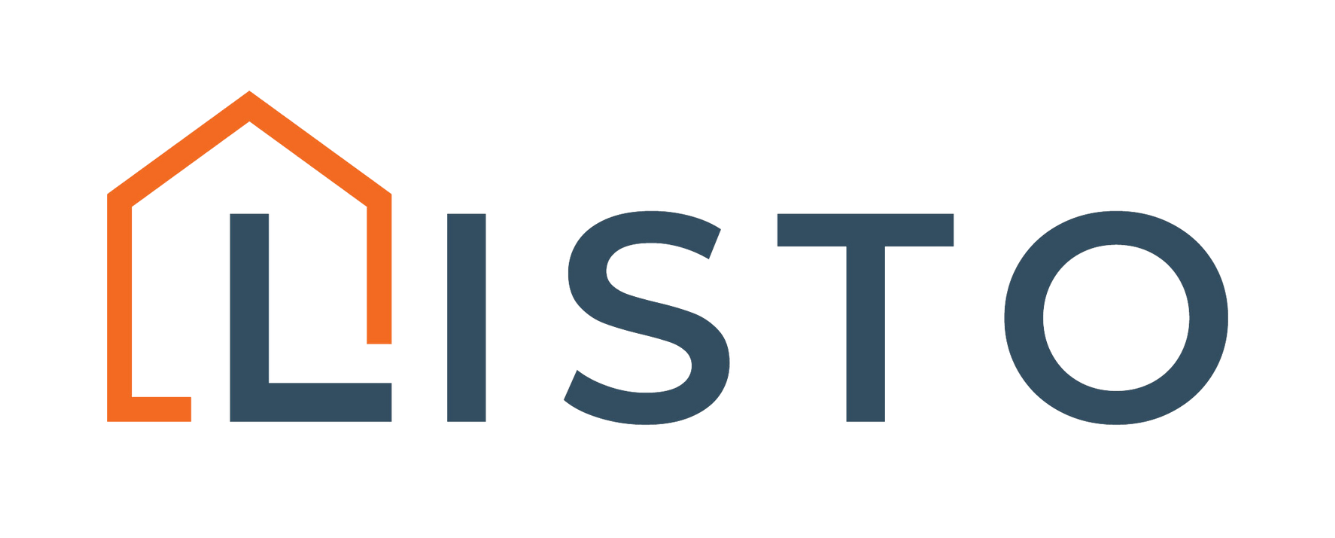 We really hope that you loved our exclusive interview session with team Listo.
Disclaimer:- If you have any concerns and query or you find any information which is incorrect please email us at admin@techrangle.com