Exclusive Interview with Rohin Aneja - FRIENDS Realty Point Brokerage.
We are so excited to bring you another exclusive interview with Rohin Aneja, Broker of Record at FRIENDS Realty Point Brokerage! Get ready to be inspired by this incredible real estate professional. 😊
FRIENDS Realty Point Brokerage, located in GTA, Ontario and founded by Rohin Aneja, is an exceptional boutique brokerage specializing in Preconstruction and Resale across GTA.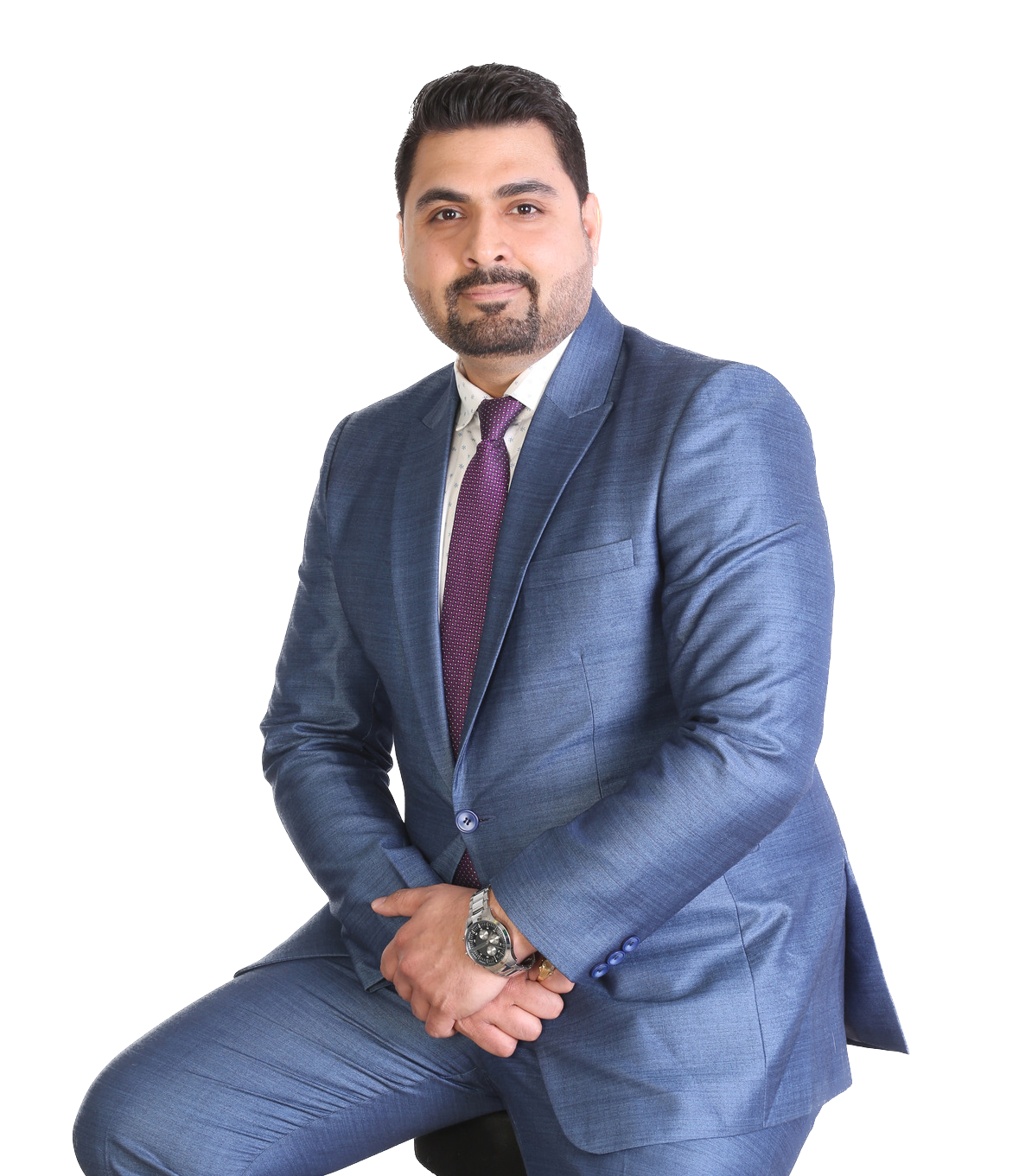 Rohin believes in building a relationship of trust with his clients over transactions. Over the past few years, FRIENDS Realty Point Brokerage has so far succeeded in providing great value to its clients. Let's take a look at some of the reviews from their clients:
Rohin treats his clients like a family member. He is very knowledgeable and has his own way of doing the things which makes him different from other agents in the market. He always shows the pros and cons of the property, best pricing possibilities and on top of that, he always stays in touch when required. His guidance has always been reliable.
We are extremely glad that we dealt with Rohin for our home buying process. As a first-time home buyer, we had our fair share of anxieties and Rohin made sure everything was taken care of to our satisfaction. Be it last minute appointments, making sure we submit the right amount for bids, responding to our queries as soon as possible - he was always there for us every single moment with all his positivity, warmth and emphatic attitude.  He is not at all an unnecessarily pushy advisor and we would strongly recommend him.
---
Now, let's read about the spectacular realtor, whose prime focus is to guide his clients to make informed decisions and mitigate risks, Rohin Aneja interview session with Techrangle Director, Riju Vashisht. 😊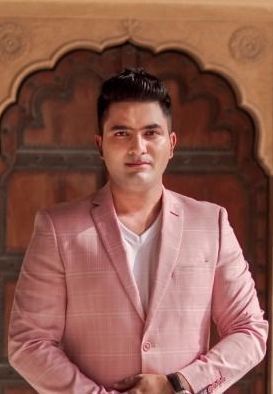 Riju: "Hi Rohin, welcome to our Exclusive Interview session  for successful realtors? How are you?"
Rohin: "Hello Riju! I'm doing great. Thank you for having me."
Riju: "Great! We have heard that you are a successful preconstruction realtor. What distinguishes you in the preconstruction real estate industry?"
Rohin: "Well, achieving success was not an overnight journey for me. There was a time when I was in a challenging phase of my life where I doubted my skills, and that's the point which changed my entire life. I didn't give up, instead I believed in myself, got the emotional support from my friends and family, tried to sell as many units as possible even for the older preconstruction projects, and ultimately won builders' trust and that's how builders started giving me new projects for promoting & selling.
The fact that distinguishes me from other realtors in the real estate industry is that I don't sell for the sake of selling, I believe in building a relationship of trust with my clients over transactions. I work as per the budget and preferences of my clients so they can comfortably fulfill the dream of having a place to call their own home. Along with that, I go out of the way to get extra incentives for my clients."
Riju: "Could you please tell us that if someone approaches you, how do you help? What are your initial steps?"
Rohin: "I provide professional consultation to my clients but in a very comfortable & friendly way, then I act as a matchmaker and match the properties with my client's requirements. That's how I choose the best investment opportunity as per my clients' preferences.
Real estate is not just about selling properties. I'm not a pushy realtor who pressurizes people to invest in real estate without guiding them. I believe that if someone is looking to invest, they should have proper knowledge of everything. And that's where I come in play. I take the time to educate my clients before they jump into real estate investing. They get to learn about different investment strategies, market trends, financing options, and property analysis. My background is MBA and I am a number guy, I show them the numbers, if I don't see value in a project then we work with another projects. Building a strong foundation of knowledge helps them make informed decisions and mitigate risks."
Riju: "What's the post-pandemic impact on the real estate industry, what activities do you perform, and how the pandemic has changed your daily schedule?"
Rohin: "The one thing that pandemic has taught us is that branding & marketing have a great influence in the real estate industry. They differentiate you, help in building trust and targeting specific audiences. Effective marketing strategies helps you nurture relationships, and generate referrals. Investing in branding and marketing ensures long-term business growth and success in the competitive real estate industry but requires adaptation to the market changes.
At FRIENDS Realty Point Brokerage, we foster a culture of continuous learning and improvement through organizing team events where I provide knowledge & training to motivate my team which has resulted in a significant positive impact on their performance, client satisfaction, and the long-term success of the FRIENDS Realty Point Brokerage team. The team events are followed by lunch parties which we missed the most during the pandemic. We are also planning to do a client appreciation event soon."
Riju: "How do you differentiate yourself from others? What exceptional services do you provide to your clients?"
Rohin: "As they say, winners don't do different things but do things differently. At FRIENDS Realty Point Brokerage, our clients are our FRIENDS. We prioritize building relationships with our clients as we believe that when there is a strong sense of friendship, problem-solving becomes easier, and our clients feel more at ease with our services.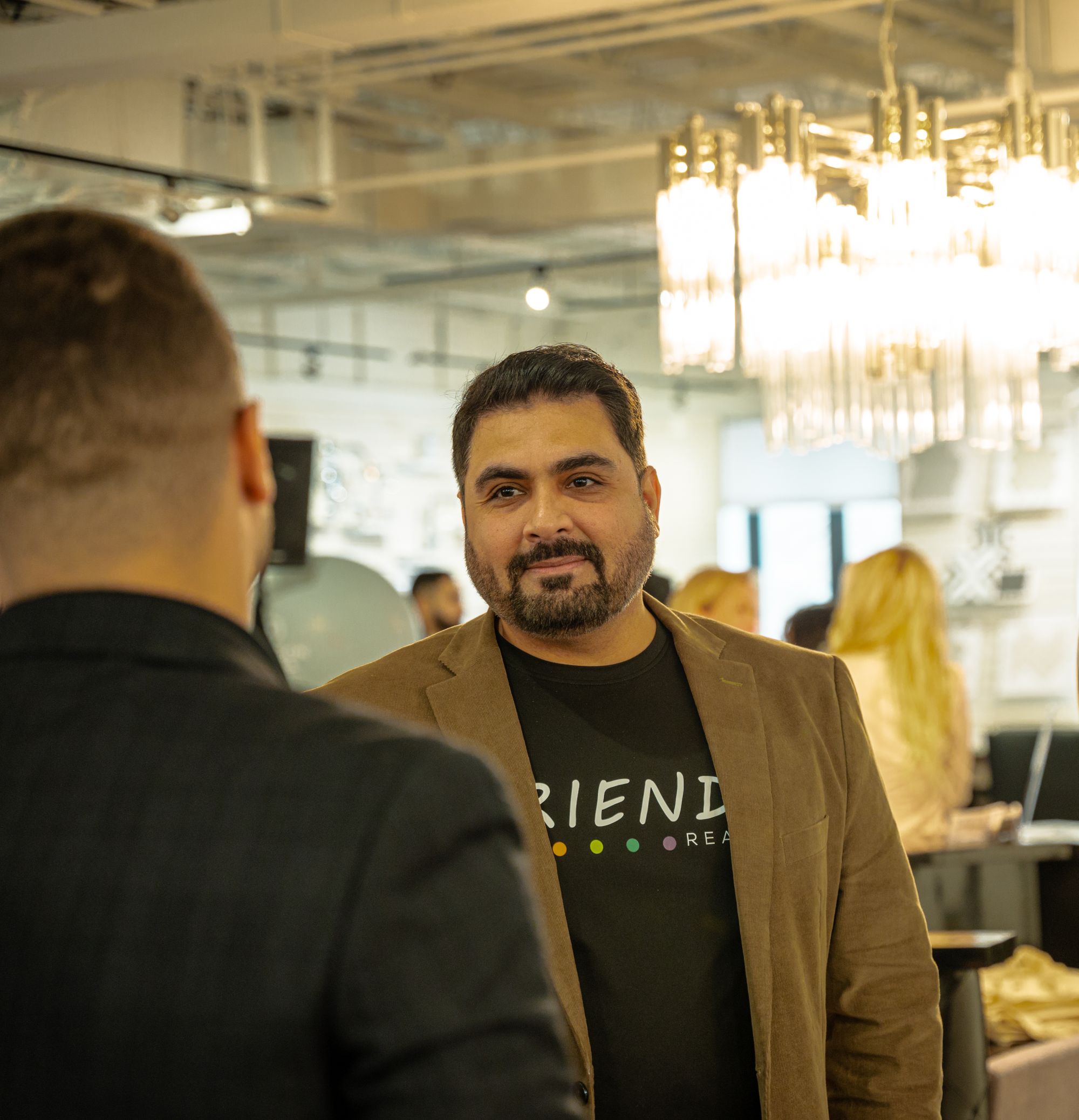 By adopting this approach, clients experience a sense of freedom from pressure. As we establish trust and provide them with a comfortable environment, there is no turning back. Over the past few years, we have successfully completed multiple deals and transactions. Additionally, we offer portfolio analysis services to our clients, aiming to optimize their real estate portfolios and enhance the value of each transaction."
Riju: "What's your selling point? Can you share a brief description of your services?"
Rohin: "FRIENDS Realty Point Brokerage is your all-inclusive destination for a wide range of real estate services. Whether you are interested in buying, selling or investing in resale, commercial, or preconstruction properties, we deal in everything. If you need assistance with securing a mortgage, construction-related matters, or seeking legal guidance, our team is always here to assist you."
Riju: "How someone can start working with you when someone is looking to buy their dream home or looking to invest in preconstruction properties?"
Rohin: "We offer a no-obligation buying process that begins with a personalized consultation. During this consultation, we encourage our clients to express their preferences regarding the type of property they are seeking for investment. Through a prequalifying set of questions, we aim to gain a better understanding of their requirements. In just 30 minutes, we can provide a clear picture of what would be suitable for them, enabling them to access their dream home that aligns with their specific needs and preferences."
Riju: "What are the challenges you face as a realtor?"
Rohin: "As a realtor, we often encounter the challenge of clients expecting us to provide absolutely certain advice on whether investing in real estate is the right choice. While we possess extensive knowledge and professionalism, there are instances where we must take the necessary time to understand every aspect of a client's preferences before guiding them for their real estate investments. Rome was not built in one day, just like that, everything takes time. It is crucial to recognize that even institutions as renowned as Lehman Brothers could not foresee the great recession.
We have a list of tasks and a process to follow for each client. Let's say you want to list a property, we have a structured process in place for that. Let me explain it briefly, first, we prepare a comprehensive listing presentation by conducting a comparative analysis of similar homes in the neighborhood. We assess if any necessary repairs are required to enhance the property's appeal. Our stager then arrives to stage the property, making it more visually attractive so that buyers can imagine themselves living there. To generate interest, we market the property on various social media platforms, engage in door knocking, and distribute flyers. Open houses are conducted to showcase the property to potential buyers. Ultimately, our goal is to successfully sell the property, ensuring a smooth and efficient transaction."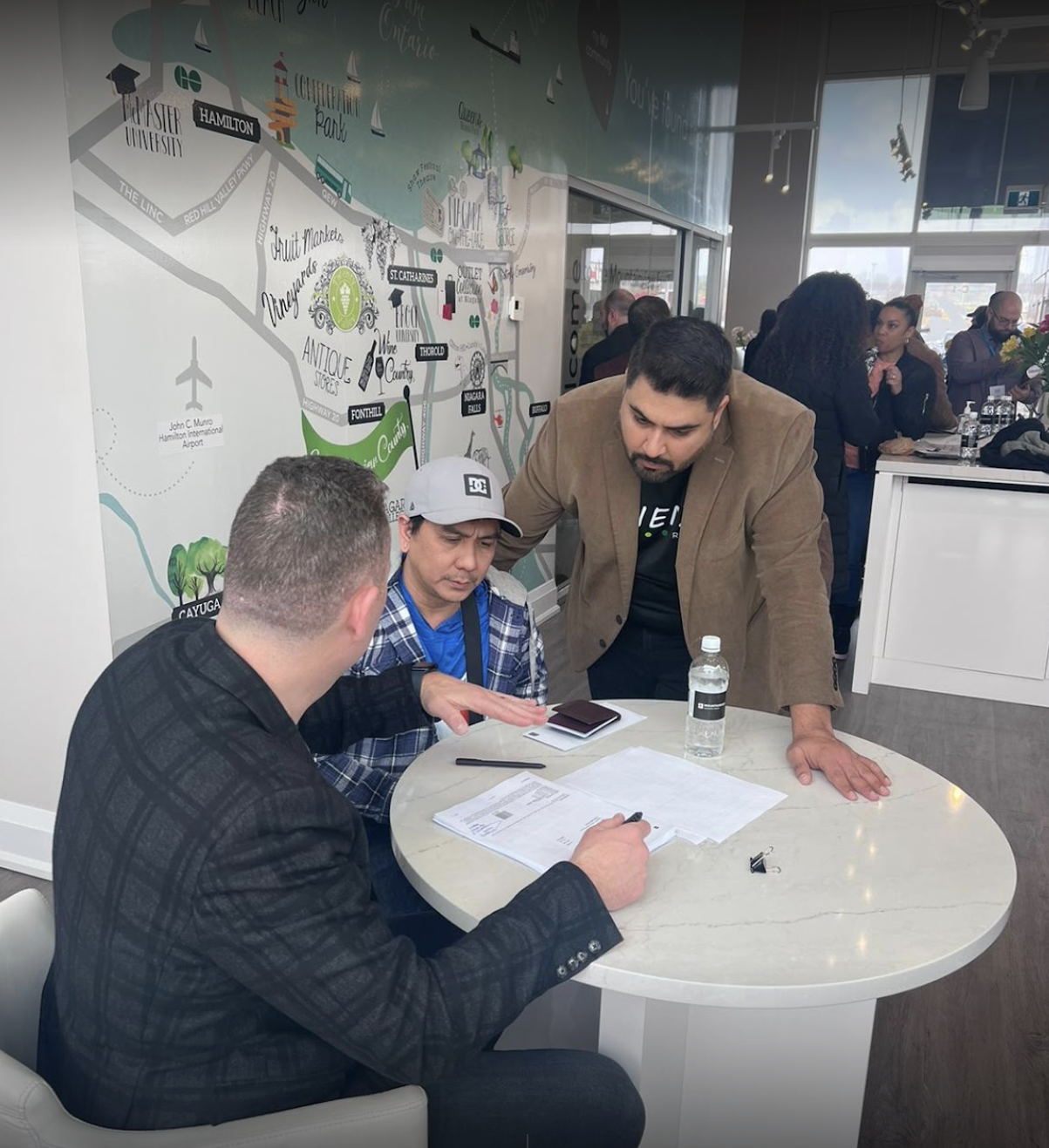 Riju: "How do you guide new agents in preconstruction real estate? Can you provide some useful tips for agents to be successful?"
Rohin: "It is highly important for new agents to approach the real estate profession with a disciplined mindset and a patient attitude. Their routine should involve spending time in door knocking, and sticking to a well-organized schedule for their tasks. While becoming a realtor may be relatively easy, what often gets overlooked is the path to becoming a successful realtor. To achieve success, you must maintain a hunger for growth and possess a genuine passion for closing deals. I still sit in the office 7 days a week and I still don't call myself successful. But along with all the hard work, don't forget to rest and motivate yourself. Remember, the only competition you have is yourself. At FRIENDS Realty Point Brokerage, I am committed to being available for my real estate agents, providing assistance with any deals they require help with. The secret to our growth lies in our business model, which emphasizes teamwork, creating a supportive and enjoyable work environment. With my expertise and knowledge, I have helped agents doing their deals in their very first week. We offer exclusive leads as part of our package to further support our agents' success."
Riju: "Will the recent pause on interest rate hikes make home buying affordable for buyers? How about inflation?"
Rohin: "Although the Bank of Canada has paused the interest rate hikes to curb inflation in the economy, however, the growing stream of immigrants has increased the demand for housing, making it nearly impossible to build enough houses each year. There is a serious shortage of inventory, leading to a potential increase in rental prices. Consequently, it is advisable for people to start saving money right now to secure their own homes, ensuring financial freedom."
Riju: "Any knowledgeable words for fellow realtors and upcoming salespeople?"
Rohin: "While real estate might seem like a very attractive profession where realtors drive luxury cars and wear expensive watches, it is important to recognize that it is a very demanding profession. If you really aspire to be a successful realtor, then your mindset should extend beyond solely making money. You should be passionate enough to help people buy their dream homes and sell their current homes. By adopting a helpful and supportive attitude, your business will automatically grow."

We really hope that you loved our exclusive interview session with Rohin Aneja.
Disclaimer:- If you have any concerns and query or you find any information which is incorrect please email us at admin@techrangle.com